News & Events
Articles
Quililan as EVP

Apppointed early last year, youthful and energetic Abundio Quililan Jr. sits as the Banks's executive vice-president. Quililan rose from the ranks starting as a credit investigator from the time the Bank was established in 1994.

However he dates his stay with the Bank since pre-operations in 1992, making him a pioneer along with current Bank President Andres G. Panganiban.

Straight out of UP Diliman, this political science graduate in 1992 found himself instead , drawn into rural banking. Quililan has seen the Bank's growth from inception, struggled with birth pains and adversities, and helped the Bank grow to 12 branches in four provinces of Central Luzon in nearly two decades.
"Very dynamic banking" is how Quililan describes NRBSL. He is also proud of his training. Apart from conferences abroad, he also took courses at the Frankfurt School of Business in Germany in 2007 and the University of St. Francis, Nova Scotia in 2009.
Quililan also served as president of the Nueva Ecija Federation of Rural Banks in 2008-2009. He led more and various activities during his term.
---
Off to Training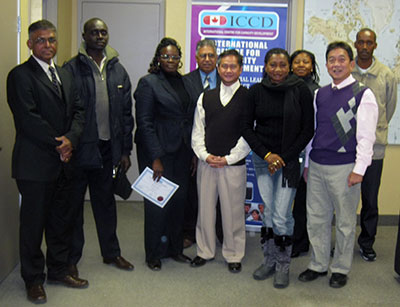 Bank President Andres G. Panganiban and Vice-President for Administration Marcelo Jampil attended courses under the Performance Management Training, Inc. in Toronto, Canada last December 6-10.

In a continuing effort to improve the development of local economies, Panganiban took a course on Economic Growth & Poverty Reduction. Jampil spent time on Human Resources Management: Skills & Techniques to help improve and consolidate staff performance and productivity in the bank.

The course on economic growth provided an analytical framework for development based on sustainable growth, rising productivity, government policies and programs determinant of growth, and people as central players. The course on human resources focused on specific behavioral, group and organizational empowerment interventions.
Government executives from Ghana, Rwanda, Kenya, Nigeria and Uganda joined Panganiban and Jampil in the training courses
---
Let's Party!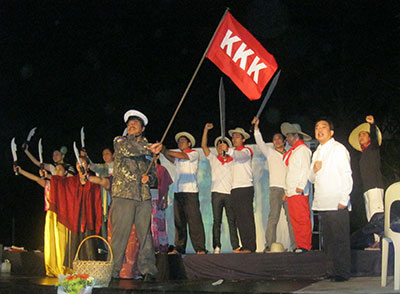 Cheers, laughter and happy chaos totally broke the silence of the Little Flower Convent in Baguio City when around 150 participants came to celebrate NRBSL's Christmas Party last December 18.

Starting with team building activities in the afternoon, the officers and staff from different branches played games called "laptop," "takas preso," "family up here," "step on me beybe," "hot-nut," and "keri ko the!."

The evening ushered in a contest of cultural presentations by different branches, and were judged on the basis of originality, costume, stage presence and audience impact. The first prize went to Team C (San Isidro, San Miguel, Peñaranda, Gen Tinio).
Raffles were also drawn, gifts were exchanged, and awards were given for loyalty and punctuality.
But the special treat for the night was an original musical-play by the Board of Directors and senior officers of the Bank on the life and times of one of the country's heroes, Antonio Luna. Awareness coupled with humor brought out lessons in history.
It was one hell of a party. Even the nuns went gushing.
---