News & Events
Articles
Interview with Jun Quililan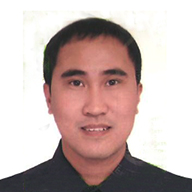 How do you feel being elected as president of the Bank?

To quote Spiderman: "With great power comes greater responsibilities." I have yet to internalize everything, though. But really, I don't mind the work. The challenge is always up there, and I devote the same full attention in my work as in others.

Did you ever hope or dream of becoming Bank president one day?

I am no big dreamer. I live each day as it comes. I take this task not as a source of pride or arrogance but with a purpose. There is a reason for everything and, maybe, this is why the role fell on my lap.
But for those who may aspire for this position, just learn the ropes and have the desire to learn. It doesn't matter whether you are coming to the Bank with the right academic credentials or not.
I avoided numbers, I did not like math, the reason why I ended up with Political Science. I wanted to be a lawyer, but look where I am now -- doing numbers everyday, having a romance with numbers.
But what made you pursue banking as a lifetime career?
The Bank's vision did it. For seven years I was a credit appraiser, doing the field. So I would meet people, with poorer clients who needed funds to set up a business or additional funds to sustain or expand their operations. It made me feel good knowing that I can help. The possibilities were immense.
Also, Mr. Panganiban's influence on me is huge. I would even say 100 percent. When I met him it was like he was a school in itself. I learned so much from him and he drove me to study. There were no restrictions to learning and I was free to inquire. With him, I overcame my fear for numbers.
He also instilled in me, and in all his staff, self-discipline and high standards. He blasted our sense of inferiority and told us to prove that we are on par, if not better, than other rural banks.
What are your plans for the Bank?
The strategic aims or direction of the Bank has been laid out by Mr. Panganiban and the Board of Directors. The product lines have already been identified and more innovations are coming such as loan products for onion farmers who maybe allowed automatic extension of their loans on certain conditions.
My role as president is to give life and success to this vision by way of efficient operations, implementation and execution.
What challenges face you now?
Actually, the demands of the work remain the same. But what is important is to galvanize and unite the corps of officers under you, to gain their support and loyalty.
As in any organization people come and go, personnel is always changing. There will always be new and old recruits. So you need a working team who will not only make operations efficient but will stand on the same ground with you on the mission, vision, goals of the Bank.
Recent consolidation efforts, with workshops at officers and staff levels, have been fruitful.
Any areas for improvement?
We have to be constantly alert on BSP (Bangko Sentral ng Pilipinas) regulations. New laws, changes and compliances are always coming out.
Also while our Bank has solid financial base and strength (total resources at Php650 million), we have to think of ways to sustain it. The traditional way is to rely on deposits. But with events like Banco Filipino (bank holidays and closure), depositors could get wary. So we need to diversify our fund sources.
One approach is to increase our credit lines with other financing institutions such as the Small Business Guarantee Fund Corp (SBGFC). Another approach is to avail of new credit lines such as with Planters Development Bank and Thomas & Associates.
We are definitely aiming for expansion from 12 to 14 branches, but I would want to enhance internal preparations first. Consolidation must precede another course of expansion. My appointment comes within this phase.
---
Solidarity with Japan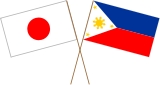 The NRBSL through then President now Chairman of the Board Andres G. Panganiban expressed its profound shock and deep sympathies to the people of Japan after the country was struck by an 8.9 magnitude earthquake followed by a 33-foot tsunami and a nuclear crisis in March.

In a letter to Hotta Masahiko of Alter Trade, Inc. (ATJ) in Tokyo, Panganiban said that the Bank is one with the people of Japan in their firm determination to rise from this "indescribable tragedy."
The letter was also sent to others in the Bank's Japan network. Days later, ATJ and the Alternative People's Linkage (APL) in Asia immediately responded with gratitude for the Bank's concern. ATJ estimated that the death toll could exceed 10,000.
Panganiban expressed the Bank's willingness to extend any form of solidarity within its means to the people of Japan while also anxious of the fate of some 350,000 Filipinos living and working in the country. Reportedly, about 6,500 Filipinos were hit in the northeastern part of Japan where the devastation was worst.
Panganiban also praised the Japanese for their "heroic endeavors" to overcome their difficulties. The world was impressed by Japan's resilience, calm, orderliness and even hope in the face of horrific destruction.
Before this, the Bank president had issued directives to its officers and staff to monitor and assist OFWs from Japan and their families who are in dire need of financial assistance.
The Bank is also prepared to assist OFWs residing in Central Luzon who are affected by the crisis in the Middle East and North Africa. About three million Filipinos are reportedly working in these regions.
---
Plan Ahoy!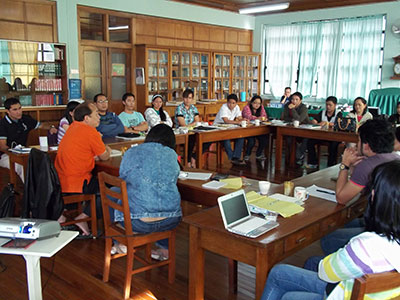 NRBSL marked the Year of the Rabbit by casting away fears and spreading positive energies.

Such was the spirit that carried the Bank's strategic planning conference to post higher targets in deposits, loans, and income for 2011.

By end 2011, a projected increase in deposits was set at Php 81 million, in loans at Php 87 million, and in net income at Php 9 million. A decrease of Php 24 million in past due was likewise set.

Attended by 25 officers and staff, the three day conference held in January this year at Little Flower Convent in Baguio City exploded into lively discussions, spiced with humor and witticisms.
Quite a few tears also flowed but this did not deter the Bank from showing positive strength in 2010, and on that basis aiming even higher goals for 2011.
The Bank had suffered some rough edges in the past year, but to its credit had looked deeply into itself and moved to define its strengths and weaknesses. Problems afflicting "the heart, mind and body" were laid bare in the conference.
The participants took turns in trying suggestions and finding solutions. At the end resolutions were crafted to guide implementation and make for policy guidelines.
The results of the conference later went into a battlecry: "Unite and transform the entire officers and staff of NRBSL into highly dedicated, skilled and productive force!"
Nothing less can be said.
---
Meat is Business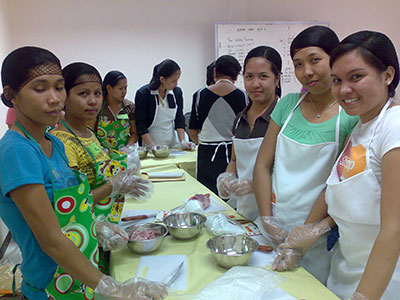 Eighteen female and one male aspiring entrepreneurs took five days off in February to attend NRBSL's meat processing seminar at the Bishop Labayen Training Center, Bgy Tambo, San Leonardo, Nueva Ecija.

Donning aprons and gloves, the participants focused on making ham, siomai, tocino, longganisa, embotido, lumpiang shanghai, among others.

Everyone was anxious to learn the skills that would put them in business or make their current business grow. Discussions were lively and excitement filled the room. Joy erupted each time a test was passed.
Yolanda Villarama of TESDA stood as trainor. Graduation rites were attended by Bank President Andres G. Panganiban, Executive Vice President Abundio Quililan Jr., and TESDA Supervisor Evelyn Marcos.
The seminar was the first among the list under the Bank's YES BRO! product. The acronym stands for Young Entrepreneurs' Success, Rewards and Opportunities.
More trainings are scheduled for budding entrepreneurs in the coming months. The participants are either clients or prospective clients of the Bank.
Microloans were promised to all graduates who expressed their interest to start their business.
---
Training Center Named After Crusading Bishop

NRBSL chose to honor Bishop Julio Xavier Labayen, a religious yet staunch advocate of local economies, by naming its newly established training center after him. Currently chair of NRBSL's board of directors, Bishop Labayen has stood with the Bank from day one, spreading wisdom and inspiration, and morally guiding the Bank to where it is now.

Known to be a social crusader, incorruptible and pro-poor, Bishop Labayen brings to the training center his belief that men and women, guided by moral and solid principles, can develop their full potentials towards building local economies.

Called the Bishop Julio Xavier Labayen Center for Local Economy Development, the 1.5 hectare center is located at Barangay Tumana, San Leonardo, Nueva Ecija, and will be opened to the public by first quarter 2010. It houses a conference room, a lodging house and a dormitory, a swimming pool and pantry area. Currently under construction are a multipurpose hall and an arena for sports activities. The Bank's HR office also resides in the same area.
The center offers regular and special courses for microfinance practitioners. Regular courses include credit management and microfinance training. Special courses are devoted to the NRBSL asset-conversion-cycle-lending rationale, credit investigation work, property appraisal, repayment management and paralegal training.
A rundown of the courses are as follows:
Regular courses:
Credit Management Course (2 weeks) - a comprehensive training program on the fundamentals of sound Credit Management
Microfinance Training Program (2 months) - a detailed program providing the basics of microfinance, ideal for the microfinance practitioners with a heart for the enterprising poor.
Special courses:
The NRBSL Asset Conversion Cycle Lending Rationale (2 days) - cash-flow lending taken in a better light, to give participants valuable insight into asset conversion.
Credit Investigation Work (5 days) - this course covers the various aspects of Credit Investigation, from threshold tests involving ocular visits, neighborhood checks, court and bank checks.
Property Appraisal (3 days) - a guide on generally accepted procedures for property valuation and appraisal.
Repayment Management (5 days) - a course designed to help participants reinforce their skills and knowledge in the preventive strategies of repayment management, collection methods, tools, procedures.
Para-legal Training (2 days) - a complete guide to documentation, review, and legal remedies available to the microfinance practitioner.
Upcoming course:
YES BRO! (2-3 months) - a special course on entrepreneurship designed for young entrepreneurs who may want to go into business or already into it. The training is in coordination with TESDA and DTI and includes courses like electronics, computer literacy, automotive, hairdressing, dressmaking, airconditioning and refrigeration.
---
Program for OFWs

More than half of NRBSL's borrowers and about 40 percent of its depositors come from overseas Filipinos and their families. This was stressed by Bank Vice President Abundio Quililan Jr. in a paper presented to the second workshop of TRANSCODE (Transnational Synergy for Cooperation and Development) in Soesterberg, the Netherlands on October 24-29, 2010.

The TRANSCODE Project is a joint initiative of the Scalabrini Migration Center (SMC), a research center devoted to international migration based in Manila, Philippines, and the Stichting Mondiale Samenleving (SMS) and Radboud University Nijmegen (RU), based in the Netherlands. Oxfam Novib is involved in the project.
NRBSL's presentation was made in a bid to generate collaboration and co-financing program for OFWs and their families. Quililan was part of the Philippine delegation composed of representatives from the Philippine national agencies, local government units, nongovernment organizations and the private sector involved with migrant groups and projects.
Nine project presentations were discussed including that of NRBSL's.
The second workshop consolidated all the gains and lessons from the first workshop to come up with tangible and viable transnational and multisectoral projects. The first workshop held in Tagaytay City in June 2010 succeeded in forging partnerships with stakeholders.
Briskly lasting for five days, the second workshop assessed the project presentations based on the following criteria: extent of real change the project will generate, extent of multisectorality in approach, and the mutuality of benefits both for receiving and sending countries.
---
New Branches

Two new branches in Baliuag, Bulacan and Peñaranda, Nueva Ecija were inaugurated on the occasion of NRBSL's 16th year anniversary in June 2010. Earlier, two more branches were opened in Nueva Ecija, particularly in Rizal and in Bongabon.

All four puts the NRBSL branches at 12.

A motorcade by the officers and staff of the bank added color to the inauguration of the Baliuag and Peñaranda branches. Traditional rites like "paagaw" and "buhos-bigas" were also held to bring peace, prosperity, happiness, love and loyalty to the bank and its employees.
Chairman Emeritus Bishop Julio Xavier Labayen officiated the blessing with Bank President Andres G. Panganiban reading the Gospel in both branches.
Michael Serafica was appointed OIC/Branch Head of the Baliuag branch and Marissa Atraje as manager of the Peñaranda branch.
Still earlier, Emily de Guzman got the job as manager of the Rizal branch and Leilani Fernando as head of Bongabon branch.
---
YES BRO!

"Who is going to take on this business after me?"

The entrepreneur's worry is finally put to rest in an upcoming bank product called YES BRO, an acronym for Young Entrepreneurs Success in Business, Rewards and Opportunites.

The product intends to train young, budding entrepreneurs from among those with businesses whether family-owned or not, monitor their growth, and increase their capitalization, if need be.
Also part of the target are senior college students who can be recruited for the Bank's on-the-business training or are interested to get into business or are already into it.
The training shall be in coordination with TESDA, DTI, TLRC, among others. Courses to be offered include computer literacy, consumer electronics, TV servicing, cellphone repair, massage therapy, dressmaking, haircutting, automatic electrical, building-wiring installation, refrigeration and air-conditioning, etc.
---
Foreign Currency Deposits

As one of the first rural banks authorized by the Bangko Sentral ng Pilpinas, NRBSL has started accepting dollar and yen deposits from the public in 2009. The BSP Monetary Board Resolution No. 1283 was dated 02 October 2008. As a foreign currency unit or FCU, NRBL operates under the under the guidelines cited in Republic Act 6426 (An Act Instituting A Foreign Currency Deposit System in the Philippines).
---